First of all, we are really happy to announce our flagship Program – "Test Series Based Pre cum Mains Mentorship Program – 2023". If you are a person who is new to our website and hearing us for the first time, then please have a read below.
We, GetintoIAS started in 2016 to help aspirants across India. We started a YouTube channel and created very good content for the student community.
Link to our Youtube channel: www.youtube.com/c/getintoias
Our videos received overwhelming responses from the aspirants and we already crossed 4M views. Right now, as an extension, we have started a mentorship program for students who cannot afford hefty coaching.
This is our third batch, Last 2 batches went very well. Most of our students cleared the prelims in the first attempt itself.
1. Explain this Program? How its Work?
GetintoIAS Test Series Based Mentorship Program for CSE 2023, is designed to guide aspirants who are doing self-study to crack this exam. From our end, you will be guided by our scientifically designed schedule and the test series which simultaneously check your knowledge of the subjects. Your duty is to follow the schedule in a diligent manner. Subjects strategies, tips & tricks, and book sources will be shared periodically.
Our June Month Schedule: Click Here
Detailed Explanation: Refer to this Video:
2. How the program will be conducted?
We are conducting this mentorship program through Telegram. After your payment, you will be added to the private telegram group and further communications will happen there. But we have a separate test series platform to conduct the test.
3. Do I get lectures or classes as per the syllabus?
No, this is not a lecture or class-taking program. It's a test series-based guidance program. That means you will be guided by our instructions, you have to follow that.
4. Who can Join this Program?
Anyone who wants to clear this exam can join this program. But this program is specifically designed for self-study, working, rural background aspirants. Even if you are from an urban, but need some stronghold from someone, then this program is yours.
5. What are the features available in this program?
First of all, you will get a schedule for the next 1 year (Up to Prelims 2023). Besides, you will get Prelims Test Series, GS1, GS2, GS3 Notes + Prelims Revision Notes.
Right book sources and materials
Guidance for prelims and mains
Scientifically designed schedule for next one year – upto prelims 2023
Prelims Test Series for GS + CA + CSAT
Materials for GS1,GS2,GS3
Special Revision Notes for Prelims
Special Guidance for Ethics and Essay
Important Daily News Snippets with Explanation from The Hindu – Will be posted daily in our Private group
Trusted by 6K learners (Telegram)
92k Subscribers on Youtube (GetintoIAS)
Moral and Motivational Support
6. Where can I get the schedule?
The schedule will be shared in our Private Telegram Group.
7. Do I get all the notes, once I enrolled in this Program?
No, you won't. It will be shared periodically based on our schedule.
8. How do you conduct the Test?
We have a dedicated portal for that, where you can attend the test.
9. Will I get a Ranking Feature?
Yes. In our Test series portal, you will get that.
10. How many GS and Current Affairs, CSAT Tests will be provided?
You will get 20 GS + 12 CA Tests + 4 CSAT Tests.
11. How many questions are there in each test?
In GS Test, – 100 Questions
CA Test – 50 Questions
CSAT Test – 80 Questions
12. Can I take the test anytime, I want?
The Test will be live as per the schedule, once it is, you can take the test from anywhere, on any device – Smartphone, Tablet, Laptop /Computer.
13. Do I need any special software to access the test?
No, Nothing is required. Just a Laptop/computer/Tablet/Smart Phone with proper internet and any standard browser is enough.
14. Is the test series only online?
Yes.
15. Do I get Mains Answer Writing?
Yes, As an offer if you join before June 30, 2022  you will be getting Mains Answer Writing for free. After that you have to join as a separate program which will cost you Rs.4000/-.
16. Is there any last date to enrol in this program?
There is no last date. But starting earlier will provide you with an advantage. It will avoid the last-minute hurry.
17. Can I get a refund, after joining this program?
No, the fee once paid will not be refunded. In case, if you have any query then, please text us at 81899 19372 before joining this program
18. How to enroll in this Program?
Please send us the payment at 8189919372 – Gunaseelan through Phonpe or Gpay and send us the receipt. Once we confirmed the payment, you will be added to our private telegram group.
19. The fee to join this program?
Plan 1
365 Days Pre cum Mains Schedule,
Personalized Guidance
Prelims Revision Notes
Prelims Test Series
Subject Strategies and Sources
Daily Hindu Snippets With Explanation
Plan 1 Fee: 6000/- Valid till Prelims 2023
Plan 2
365 Days Pre cum Mains Schedule,
Personalized Guidance
Subject Strategies and Sources
Daily Hindu Snippets With Explanation
Mains Notes for GS1, GS2, GS3
Prelims Revision Notes
Mains Test Series
Prelims Test Series
Plan 2 Fee: 10000/- Valid till Prelims 2023
20. Who will mentor us?
Myself, Gunaseelan – Founder of GetintoIAS will mentor you. I have very good teaching experience and attempted the UPSC – CSE examination multiple times with great results.
Program Reviews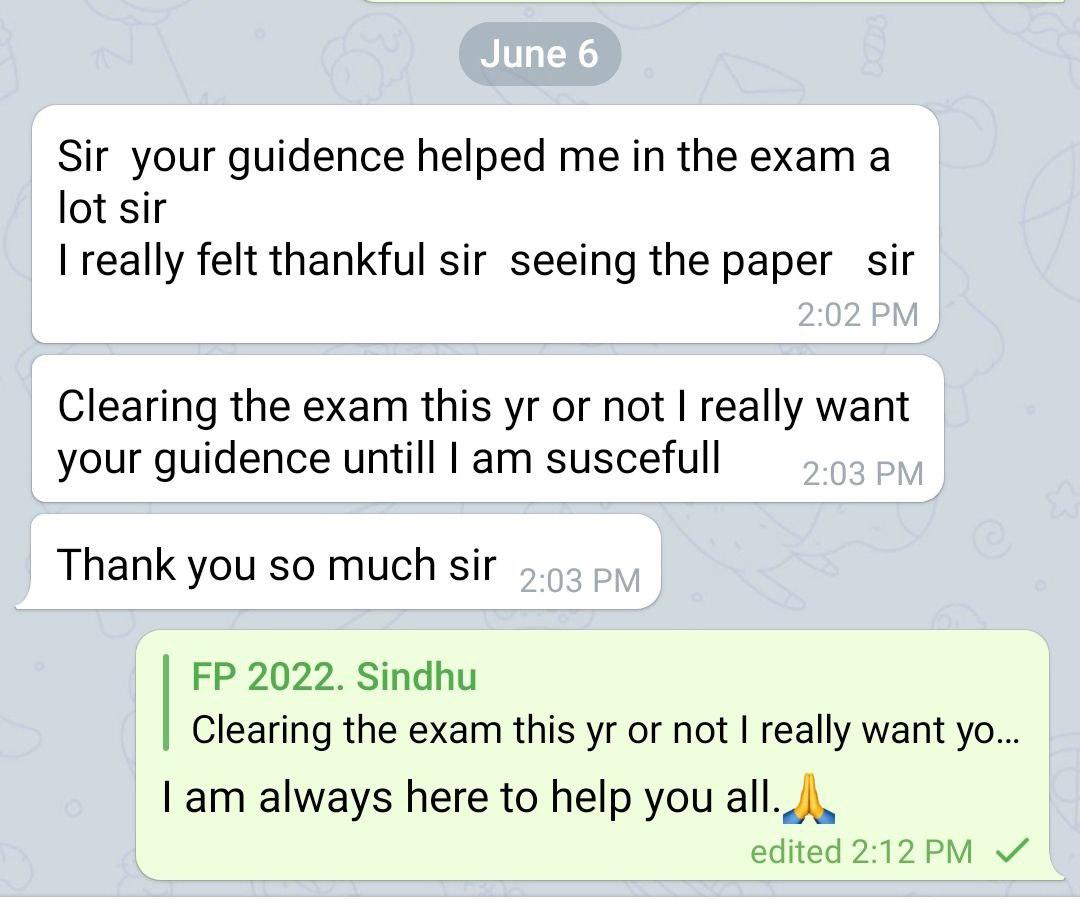 I decided to join now, What I should Do?
Please send us the payment at 8189919372 – Gunaseelan through Phonpe or Gpay as per the program you want to join (Plan 1 or Plan 2) and send us the receipt. Once we confirmed the payment, you will be added to our private telegram group.
Or else if you want to talk to us, then please call us – 8189919372 – Guna Sir.
Note: Fees Once paid will not be refunded at any cost. Hence, think twice before making the payment.